I recently watched a movie by an artist that keeps inspiring me over and over. It seems that since I discovered his music it has done light and dark things to me, but most importantly it elevated my sense of individualism. It made me embrace the energy that he birthed into this world or this energy that was already here since the beginning of time and he made it his mission to explore and make it his own, so that he can unveil it to us, a faithful audience.

20000 days on earth was an unveiling ceremony, a 2 hour long glimpse inside a life of a successful artist and a look at the aspect of ourselves we are all trying to hide which is what happens behind the scenes, the stuff that nobody sees.
It starts out with him waking up in his bed next to his wife, then taking a good look at himself in a mirror and then he starts driving to his office. A road – is a great metaphor. We are constantly on the road. Life is a road. For Nick Cave the road took him to a psychiatrist. A brilliant aspect for a man that's challenging psyche with every song, he goes to a shrink himself.
Perfect. I waited for the answers.
Psychiatrist: What are you scared of the most?
Nick Cave: To not be able to do what I do. To not be able to be an artist.
Brilliant. Even when the greatest thief of life, the time, strips him of layers of strength mister Nick Cave would still like to remain being himself doing what he does.
Amazing…
What follows after are various scenes, some live shows, some intimate ones. In one scene he is having a dinner with his bearded sonic wizard band mate, Warren Elis. Nick Cave drives up to a simple house on the coast of England. Two grand men are sharing a meal full of memories. It's all about the silences between the sentences, forks clanking and blank facial expressions. Really minimalistic cinematography. Full of silent weight.  In another scene he visits a library of images taken during his heroine addiction stage. somewhere in Berlin. There, he is sitting in his one room apartment covered by his art, words, magazine cut outs, and so forth. It was literally one room with nothing but a bed in it and he is sitting on it. King of his own demons. He recalled a peculiar idea he had at that time, to be writing down rare words with translation. Scholarly thirst is beautiful portrayed. A great Buddhist statement comes to mind, "I am where I go."  He remembered that time with a smile.
Most interesting twists were moments where people from Nick Cave's life would show up at the back seat of his car and he would talk to them about work they have done together, or some trivial things, as if they were ghosts of the past haunting him. One moment he is driving out of his parking spot and the next he would just start talking to them and they show up, as if they were called upon by his own mind.
"Ghosts stay bound to earth by their presence in our thoughts." – Dmitry Wild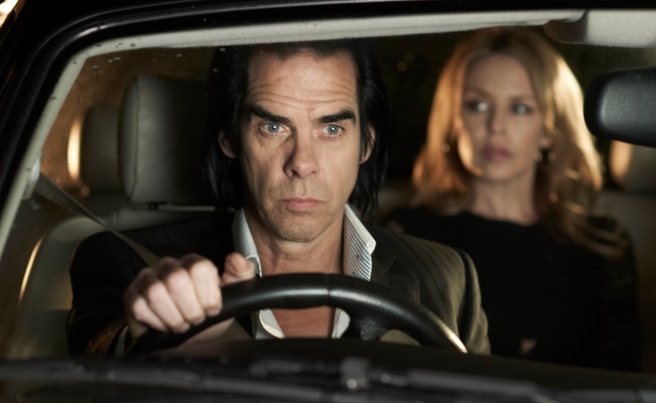 Another interesting fact was that Nick Cave wears an abundance of gold rings, strict cut suits and he drives a white Mercedes Benz. It's not a modern version, a more aged one, but nevertheless it's a white Mercedes Benz. For those musicians that love to associate lifestyle to the kind of music people write, I think they would find this fact rather unnerving, but it all makes sense, since he is a man of trade, the artisan, the craftsman and his craft is entertainment sort of speak Rock and Roll is his business. I think the paradigm where a musician needs to starve and look shabby as if he hasn't eaten for days or as if he is on drugs or has issues of some sort is dying. That paradigm needs to be replaced with a successful artist mentality and this movie did just that for me. It allowed me to see a highly intelligent artist analyzing his life and showing it without hiding anything or not revealing it all. From the first scene Nick Cave goes to his shrink and we see his eye twitch from nervousness and his own honesty. Is he on drugs at that time? No. He is just being honest and may be what the musicians are most afraid of, hence the mask and layers of strength and protecting themselves from the "pain of being pure at heart." (Great Band Name)
I went to see Nick Cave's shows twice and I have seen his medicine and it's good. Every time I went I refused to go, since if it would be a bad show I didn't want to let my mind deconstruct the status he has built in my mind as an artist. I don't take no bullshit and judge any artist / musicians harshly since for me the most important element is the mojo that the artist brings to the audience. Ever since the famed front man of the Doors, has coined the word, "Mojo" in rock and roll, for me that's what music and art is all about. Doesn't matter what kind of style of music and what is your art if you don't bring yourself, your joy and pain into it, it's not worth bringing forth. That's what I look for and that's what I bring to my own performances. The mojo is the root of the balance between the dark and light, it is the stuff the hidden power is made up of. In order to impact someone you have to have something to bring with you.  That's why the music is magic.
And when magic happens you know it.
Therefore, 20000 days on earth was a great movie, full of interesting surprises and unreleased little insights about a great musician / artist / writer I admire. I highly recommend this movie, not because it's Nick Cave and he has built a name and a reputation for himself, but because this movie as itself an art piece. Anything that can capture what makes an artist be an artist is worth your time, attention and intelligence, because in the end the more individuals you observe behind their craft you start understanding that all we got is a certain number of days on earth and what matters is how deep can we study ourselves and bring it to everything we do.
– Written by Dmitry Wild